Recently, I finally broke and purchased myself a cellular device. I have for the past year had a Pay as you Go phone that I absolutely HATED. Now don't get me wrong, that phone was awesome, but my new phone is amazing! I searched and searched for something that I knew would do everything I needed it too, plus more. This always led my searches back to an Apple iPhone, which I have already done and didn't quite enjoy. I need a phone that is like a mini computer, so I can work and check on things everywhere I go. Sure, the iPhone would of been awesome for that, but I think the price tag is ridiculous when there are other phones out there that do the exact same thing as an iPhone, at half the price.
So… what did I buy?! The LG Optimus Black Skype Phone. Down in the US this phone is also known as the LG Revolution. Yes, I know this because I of course had to find out. I wanted all my viewers to be able to find exactly what I am talking about.
Let's learn about the LG Optimus Black Skype Phone (LG Revolution)
LG Optimus Black Skype Phone Review (LG Revolution Review) 
Features:
With Skype Credit, take advantage of low international rates when calling from Skype to landline and mobile numbers
Unlimited worldwide Skype to Skype calls and IM
Charge Skype Credit right to your TELUS account
2MP front facing and 5MP back facing cameras
See pictures, videos and web pages in stunning clarity on LG's new NOVA display
Extremely slim and stylish at 9.2 mm thin and only 109g in weight
What You Have:
Bluetooth®: Yes
Music player: Yes
Voice dial: Yes
Alarm clock: Yes
Speakerphone: Yes
Voice memo: Yes
Calendar: Yes
Memory slot: Yes
Wi-Fi: Yes
Camera: Yes
Touchscreen: Yes
Global roaming: Yes
Facebook® application: Yes
QWERTY keyboard: No
Specifications:
Technology: 3G HSPA 850/1900/2100, Quad-band GSM 850/900/1800/1900
Weight: 109 grams
Size: 122 x 64 x 9.2 mm
External memory: up to 32GB
Camera front: 2.0MP
Camera back: 5.0MP with video capture
What We Think
Overall, this phone is amazing. I have done anything and everything I felt I needed to do to find out how good this phone is, and it's been able to do it. Of course there are some things lacking still but with it being such a new phone I feel it will all come around soon enough, I hope.
Pros 
With the phone being so light weight, I don't feel weighed down by my phone and actually am willing to take it places with me. I also love how the phone has the option to only be turned on by the power button on the top. This prevents my children from being able to turn on my phone and goof around on it.
Another huge pro of this phone is the touch screen. I am not usually a touch screen fan, but this one is very good. It isn't too slow, it isn't too fast and it seems to work perfectly. I just simply touch what I want and it opens.
The on screen keyboard is also a good size for typing quickly. With myself doing a lot of web surfing and quick research on my phone, I needed something that is easy to type on, and the LG Optimus Black Skype Edition wins that award.
Cons 
One of the biggest downfalls of the phone is the battery. If I leave my Skype running all day I am bound to have to charge it every night. Of course I purchased this phone because of the Skype capability, but I am finding I have to turn it off just to ensure I have enough battery power to get through the day. The battery slightly sucks, but I am learning to manage and getting used to it. I highly recommend those going out all day and know they'll need their phone regularly, buy a car charger for it. You'll need it.
Another con is how you actually get into the phone. After I've pressed the power button I also have to do a finger slide up the phone to open up the home screen. This drives me slightly crazy. This is not a phone for someone that wants to do drunk texting, you won't be able to get into the phone! Okay, maybe it would be the perfect phone for all you drunk texters out there unable to actually get into your phones! (Yes I had to throw that in there)
Conclusion
I love this phone. Sure the battery sucks, but the rest of the phone is fabulous. I highly recommend this to anyone and everyone. If you are a newbie with technology, I even recommend this phone to you! I know, it is that great. It is so easy to use and maneuver, that it is a great phone for anyone and everyone.
Buy Through Verizon Wireless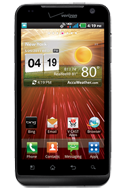 Buy Now!
Verizon Wireless Price: $199
Check out all of MommyMatter's Product Reviews now.